Photo by Esther Avila
I had a most interesting day today - covering everything from visiting with Chinese children, followed by a police chase and shooting, an afternoon covering boat races and photographing children in the lake, and finishing the day by covering the sudden appearance of an angel in a window.
Oh yes, today was a fun news reporting day.
Can my job be any more interesting?
Did I mention that I absolutely love my work?
I do. I do. I do. I do. I do.
Angel appears on local window
Comments

2
Recommended
13
July 24, 2008 - 7:02PM
THE PORTERVILLE RECORDER
The appearance of what appears to be the image of an angel on a local business window has several Porterville residents flocking to the location in hopes of seeing the angel, with halo, that appears to be flying.
The image has been appearing after dark for several nights, said Debrah Dattoli, who captured it on video.
People have been gathering after dark at Carpet Plus Colortile, 1043 W. Olive Ave., to catch a glimpse of the angel.
To read the full story - click here.
I'm sorry - this story appears to be gone. However, I did write a couple of other stories on this topic.
See two stories below.
Angelic sighting attracting crowds to Porterville store
Posted:
Monday, July 28, 2008 12:00 am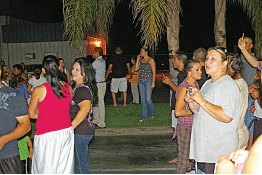 (Recorder photo by Esther Avila)
A
ge didn't matter, and neither did religion, as more than 200 men, women and children gathered Friday evening in one accord — to see firsthand if an image of what appears to be an angel on the window of a local business was real.
"It's unexplainable," said Debra Dattoli, when she brought a video of the image to the Porterville Recorder on Thursday. "It has actually been there over a year now."
Once Dattoli reported the angelic image — which spans across two
large storefront windows at Carpet Plus Colortile at 1043 W. Olive Ave. — large crowds flocked to the area.
Fathers lifted their young children and pointed to the image. Others brought their cameras and used their cell phones to call family, friends and loved ones — inviting them to come see for themselves — the angel that has been making appearances night after night. Most of the people arrived in large crowds, bringing their families and friends along. Most of the people talked excitedly but a couple of people stood silently, as if in awe, one with tears.
"It's amazing. We're Catholic — we do believe in Virgin Mary appearances but very seldom do we see an appearance of an angel. It's a blessing," said Sylvia Trevino of Porterville. "We're true believers. I have a feeling this will go national. This is huge. There's a reason why this is here."
Many in attendance expressed similar sentiments.
"It says in the Bible, Acts 2, that in the end days there will be signs and wonders," said Maria Hurtado, who said she attends a Porterville non-denominational church. "I was in a bad mood before coming but once I got here, it had a calming affect on me. This is a way of God saying 'I'm coming.'"
Hurtado said people keep trying to figure out what is causing the image.
"Not me. I just accept it. In Proverbs 3, it says that we should not lean on our own understanding," Hurtado said. "They should just accept it and trust in God."
Brothers Adrian and Joe Soto arrived with their father and with friends. Though Adrian Soto said he was a bit skeptical, Joe Soto said he wanted to know why it suddenly appeared.
"I'm not sure what to think," Joe Soto, said. "This is something you don't see every day. I'm not sure how to react to it. I heard of it today so we all came over. It's funny how everybody's gathering to see it."
One woman, Angelina Briones, said she captured the image on video — opening and closing her eyes.
"We came last night and I caught it on film," she said as she showed several people her video. "They say in the Bible that there will be signs. This is a sign. I like it."
The stories continued, with resident after resident sharing their stories, photos and videos with those around them.
"It's beautiful. Our town needed a sign like this. It's exciting to see all the people. We needed this to keep the faith," said Aimee Navarro. "I read about it in the paper. You can't believe it till you see it so I came with my nephew, brother, cousins and friends. We don't see too many positive signs like this and we needed it after [Friday's] stabbing and shooting. People should come and see this."
Owners of the business, Ronald and Teri Johnson, said during a television interview that they believed the bright image was created by an odd reflection. But after rearranging racks and other store items, the reflection continued — night after night.
Teri Johnson said: "I think our angel is sent here from God and watches over us because we pray all the time for our business and our family."
People seeing new image - Jesus on the cross
Posted:
Wednesday, July 30, 2008 12:00 am
Recorder Photo by Esther Avila
An image of what appeared to look like an angel on the window of a local store is gone but a sea of people longing to catch a glimpse of the heavenly creature flocked to the site tonight hoping to see not only the angel but also something new — an image of Jesus Christ hanging on the cross on a nearby palm tree.
"I went looking for the angel and it was gone," Robert Sanchez said today. "Then someone said Christ was there and I looked up and I saw him. Christ was on the cross, arms out, head down, his beard, his eyes — down to the last detail. You can see his ribs and his stance with his knees up and arms hanging to the side. I was thrilled. To have two sightings in the same place — it confirms that the image on the window was not fake."
Sanchez said he saw the new image around 8:45 p.m. Monday and again at 2 a.m. today when he returned with his family.
Two Porterville police officers and the PPD traffic patrol supervisor monitored the activity tonight.
"We're out here to make sure everyone is safe," said traffic patrol supervisor Mark Acevedo. "Other than the traffic issues, there have been no problems."
Crowds of people could be seen on both sides of Olive Avenue. Some people parked east of the highway and walked to the 1000 block of West Olive Avenue.
Most of the crowd could be seen taking photographs. Some claimed to see it, some didn't. Television crews were interviewing people.
The Rev. Steve Benton, pastor from Hope Restoration Ministries in Poplar, placed a cross at the base of the palm tree.
Recorder Photo by Esther Avila
"My wife and I were here to share our faith with the people who are drawn to this image in the window," Benton said. "I have been out here for two nights and never saw it myself but these people are looking for something to fill the vacuum in their lives. That is why I put up the cross, because it is an image that is really clear. People are looking for something. People are looking for hope."
Porterville resident Trina Leon said her heart felt heavy when she saw the people.
"My heart just sank. People want to believe," Leon said. "I said 'People, this is not of God.' It was an illusion. I call it mass hysteria. People want to have hope but that hope needs to lie in God. Instead of turning to a palm tree or a window, they need to look for God."
The angel in the window turned out to be nothing more than reflections of light from the mini mart across the street. But people who have been gathering at the site are not convinced.
"People will see whatever they want to see. That's imagination," Adel Joudi, owner of Xpress Gas and Minit Mart, said. "The angel has been there since I opened the store two years ago. It was a light reflection. If I turn on the light, it is there. If the light is off, it is gone."
Nearly 400 people arrived Monday night to see the angel, he said.
"I had to call the police," Joudi said. "They couldn't control the crowd. I had to shut my store down for two hours while they got all the cars out of here."
Joudi said he was forced to turn off the lights directly under the overhang of his business to prove to the people that the angel was caused by a light reflection.
"But people wouldn't believe it. They wouldn't leave. They hung around the area until 1 a.m. to see if the angel would return," Joudi said. "I just want them to go away. I want them to know that the angel will not return. I have a business. I just want people to respect my business."
Across the street, the owners of Color Tile, Ron and Teri Johnson, also talked about the mass crowd.
"There were so many people [Monday] night. They were in the street, in the street median, in the parking lots, at the empty brick house across the street, in the empty field — they were everywhere. It was unbelievable," Ron Johnson said. "It is wonderful and exciting and nice but I don't think it is a miracle."